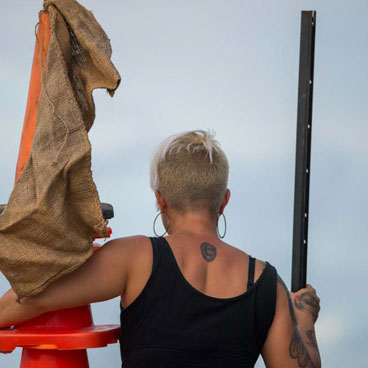 A descendant of the Ngugi people of Mulgumpin (Moreton Island) in the Quandamooka, Libby Harward creates artworks that break through the colonial overlay to connect with the cultural landscape, which always was, and always will  be here. Her political practice, in a range of genres, continues this decolonising process. Libby describes her practice as a process of simultaneously listening, calling out to, knowing and understanding Country.
Libby's arts practice spans over twenty  years, initially as a community, street and graffiti artist. During the past 7 years her focus has been on developing a conceptual arts practice, resulting in regular invitations to exhibit works both nationally and internationally. Major recent works include the ALREADY OCCUPIED series on Yugambeh Country (Gold Coast), and DABIL BUNG (Broken Water) with First Nations along the Bidgee and Barka (Murray-Darling River system). 
These works engage a continual process of re-calling – re-hearing – re-mapping – re-contextualising – to de-colonise, cultural landscapes, utilising low and high-tech media with elements of sound, image, installation and performance,  engaging directly with politically charged ideas of national and international significance.
Education 
2022 Masters of Visual Arts Queensland College of Art Griffith University Brisbane 2016 Registered Circle of Security Parent Educator | Circle of Security International 2015 Graduate Certificate in Developmental Trauma, Australian Childhood Foundation
2000 Bachelor of Arts (Theatre) Griffith University, Gold Coast 
Selected positions held 
2021-2022 current – Co-Director Munnimbah-dja Culture Space Maleny 
2019-2020 Public Programs assistant HOTA Gold Coast 
2012- 2022 Artistic Director – Libby Harward Art – Creative Inclusive Pty Ltd, 
2017 + 2015 Guest lecturer and Tutor – Indigenous Art Protocols Qld College of Art GU Gold Coast, Director – DRASTIC ltd – 2016 – 2017 
2013-2015 Resident Artist at Arts Incubator Rabbit + Cocoon- Miami Marketta, 
2007-2012 Creative Director Mirikai Gold Coast Drug Council- Inter Urban Arts – Therapeutic Art program, 
2003- 2006 Coordinator Arts and Health Bris Youth Service, 
Selected appointments arts health/ community cultural development 
2016- current Artist Jarjums Life Museum, 
2017 Workshop Facilitator and Youth Trainer Quandamooka Festival, QYAC. 2017 Artist in Resident – Headspace -Southport Aug 2016- Feb 2017 
2015 Director of Yana Balang – Strong Walk, Theatre in Community – Mirikai – Gold Coast, Qld, 2015 
2014 Director of The Healing Story –Theatre in Community – Mirikai – Gold Coast, Qld 2014 2014 The Walking Neighbourhood BAGOT, Northern Territory 
Selected Artistic Achievements 
Solo Exhibitions 
2019 ALREADY OCCUPIED, Redland Art Gallery,Qld, Aust. 
Selected Group Exhibitions 
2021 "MINYANG NYINDA YARINYA? MINYANG NYINDA YAGAY BA? #Budla (What Are You Saying? What Are You Doing?) #two" Her Beauty Her Terror – Caboolture Regional Art Gallery, Brisbane. 
2021 "Bloodletting (water-ways)" SOLID GOLD EXHIBITION – HOTA, Gold Coast. 2020 "DABILBUNG (brokenwater)", BLEACH Festival, Gold Coast. 
2020 "Smoke Cloak" 4A contemporary, Sydney. 
2020 "Mirrapool" Here I am Exhibiton Avenue at the Kambri Precinct, ANU 2020 "deadstream-DABILBUNG (brokenwater)", Nextwave Festival – online iteration COVID 19 ASSEMBLE FESTIVAL. 
2020 "channel dead_stream" BOXCOPY, Brisbane. 
2020 "RES[ON]ANCE [OFF]" – OuterSpace, Brisbane. 
2020 "AMPLIFICATION: AFFIRMATION: LOCATION, SPIRIT, SONG" IMA, Brisbane 2019 "ALREADY OCCUPIED – YUWAYI! JANA-N-BA WUNJAYI !(Goodbye! Go away now!)." Past, Place, Future MARS Gallery, Melbourne 
2019 "Ngali Ngariba" Garden of Earthly Delights, Gropius Bau, Berliner Festpiele, Berlin Germany. 2019 "Ganngalanji" , Bleach Festival Commission 2019, Gold Coast. 
2018 "Ngugi Bajara" Why Listen to plants, People+ Artist+ Place Liquid Architecture, Brisbane Qld Aust. 
2018 "Minyang nyinda yarinya? Minyang nyinda yagay ba? / What are you saying? What are you doing? Why Listen to Plants, Liquid Architecture, Svolvær, Norway. 
2018 "Already Occupied" Polyphonic Social, Liquid Architecture, Melbourne, Vic. Selected Residencies
2018 Artist in Residence – Brisbane Botanical Gardens – Liquid Architecture and People + Art + Place, Brisbane, Qld. 
2016 The Walls Arts Space, Miami, Gold Coast, Qld. p 8-9 
Selected Public Art Commissions 
2021 Picabeen HOTA- Public Art Commission under JUDY WATSON 
2017 Interactive Mural National Museum Australia, Artists Gallery for first Australians 
Bibliography 
2021 Chari Larson, Inspired by organic cells, with some marvellous art on show: The Conversation 2021 Danni Zuvela. Decolonial Gardening: Libby Harward's Ngali Ngariba at Gropius Bau, Art + Australia Issue 8 
2020 Libby Harward and Danni Zuvela. FINEPRINT MAGAZINE, Issue 24 2019 Dr Glenda Harward Nalder. Ngali Ngariba: Artist website www.libbyharward.art 2016 Colour Theory Featured Artists, NITV, SBS, Australia . Trailer: Episode 2 2017 Blank Magazine, click here 
2016 Shifting Sands exhibition, catalogue, Michael Aird and Jo Driessens 2015 My Story, Catalogue, Michael Aird and Jo Driessens, p 8-9, click here 2015 More Gold Coast, Arts and Cultural article Kate Veling 
Selected Grants 
2019 Australia Council for the Arts, Individual artist Grant 
2019 Arts Queensland, Queensland Arts Showcase Funding 
2017 Individual Artist Grant $30,000 – Australia Council for the Arts 
Selected Collections 
National Museum, Canberra, Australian 
Redland Art Gallery
Caboolture Art Gallery