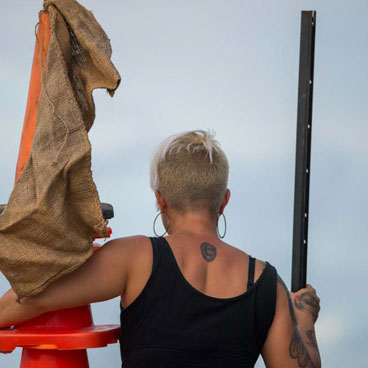 Libby Harward is a Quandamooka artist of Moreton Bay in Queensland, and a descendent of the Ngugi people from Mulgumpin (Moreton Island) living on Yugambeh Country, the Gold Coast, Queensland, Australia.
She began her career as a solo street artist under the pseudonym 'Mz Murri Cod' in 2003, continuing, through her personal art practice to deepen her connection with her Indigenous culture.
Libby still works under the pseudonym of 'Mz Murricod' in her Graffiti art practise however her new aerosol works have been strongly informed by her more recent conceptual ephemeral earth based practice. Documented in film and still image, Libby works in an intertidal zone where she is within a continual process of re-calling – re-hearing – re-mapping – re-contextualising – de-colonising and re-instating on country that which was denied.
Her solo work has predominated on mainland country, where she resides, that has become highly urbanised and calls for an artistic response that seeks to uncover and reinstate the cultural significance of that place, which always was, and remains, there. Her artistic process engages traditional custodians in the evolution of her work.
Since completing a Creative Arts Degree in 2000, Libby has worked as an arts worker, social change arts worker, arts in health worker, therapeutic artist, youth worker, community health worker and creative collaborator.
She is currently the Creative Director of Creative Inclusive and a lead mentor for emerging artists through DRASTIC Artists Run Initiative (a group specialising in youth health and wellbeing through the arts). Both initiatives operate on the Gold Coast and expand into, the South-East Queensland, and northern New South Wales region. Through her community art projects and large mural work, Libby has also worked in Northern Territory and the Torres Strait, predominately with young people using theatre and visual arts to assist their expressions of identity and/or re-connections to country and culture.
Libby has a strong commitment to strengthening community work. Over the past decade she has included and developed her community and cross – cultural consultations practices during both commercial and familial art projects with successful outcomes that are unique and reflective of each community and their cultural expression. The focus of this work has been on sharing stories of strength and pride on walls, buildings and under bridges, within cultural institutional contexts in partnership with state and national museums in Brisbane and Canberra.
Libby's therapeutic arts focus is about exploring connection and relationship with a focus on first nation knowledges as well as neurobiology, attachment and trauma integration.  Her work is about relationships and connection with people, with country and with culture. She is extremely passionate about providing opportunities for people to explore their potential using strength based principles with a strong focus on inclusivity.
QUALIFICATIONS
2015 –– Graduate Certificate in Developmental Trauma, Australian Childhood Foundation
2000 –– Bachelor of Arts (Theatre) Griffith University, Gold Coast
POSITIONS HELD
2012-2018 –– Artist and Director – Libby Harward Art – Creative Inclusive Pty Ltd
2017+2015 –– Guest lecturer and Tutor – Indigenous Art Protocols, Qld College of Art, Gold Coast
2016-2017 –– Director DRASTIC Ltd. Press: 1
2013-2015 –– Resident Artist at Arts Incubator Rabbit + Cocoon-Miami Marketta
2007-2012 –– Creative Director Gold Coast Drug Council- Inter Urban Arts – Therapeutic Art program
2003-2006 –– Coordinator Arts and Health Brisbane Youth Service
INTERNSHIPS
2017 –– Internship with Urban Arts projects Brisbane. Judy Watson – Women's pathway public art project
SELECTED EXHIBITIONS
2018 –– Why Listen to Plants, Liquid Architecture, Svolvær, Norway. Work: Minyang nyinda yarinya? Minyang nyinda yagay ba? / What are you saying? What are you doing?
2018 Polyphonic Social,  Liquid Architecture, Melbourne, Vic. Work: Already Occupied. Event: 1
2018 –– Festival 2018, Performance Kurrawa Park, Gold Coast, Qld. Work: Already Occupied. Press: 1
2018 –– Local Loops, Festival 2018, The Walls Gold Coast Qld. Work: Film Site-lines custody Digital film 1.52m 2017 –– Cross Currents
2018 –– The Night Watchman, Festival 2018, The Walls Gold Coast Qld. Work: Film Yabruma. Event: 1
2017 –– Cross Currents. 2017 Indigenous Artist Camp Exhibit, Gold Coast, Qld. Work: Sovereign Signs
2017 –– Enter The Map, Curated by Danni Zuvela, The Walls, Miami, Gold Coast Qld. Work: Kunga – to call out and listen to. Documentary
2016 –– Art of Skins Artist, Carol McGregor and Glennys Briggs, State Library, Qld
2016 –– Dhanamenta2, Curated by Dhana Merrit The Walls, Miami, Gold Coast. Work: Custodian
2016 –– Shifting Sand, 2016 Indigenous Artist Camp Exhibit, Gold Coast, Qld. Work: Guriba, Yunggulba, Yabruma. Instagram Image: 1  2
2015 –– Headlands, The Walls Arts Space, Miami, Gold Coast, Qld. Work: Yabruma. Instagram Image: 1
2015 –– My Story, 2015 Indigenous Artist Camp Exhibit, Gold Coast, Qld. Work: Before Trodden Denied. Catalogue
RESIDENCIES
2018 Oct –– Artist in Residence, Brisbane Botanical Gardens – Liquid Architecture and People + Art + Place, Brisbane, Qld.
2017 Mar –– Indigenous Artists Camp Gold Coast Selected Participant
2016 The Walls Arts Space, Miami, Gold Coast, Qld. Work: p 8-9. Event: 1
2016+2015 –– Indigenous Artists Camp Gold Coast Participant. Work: click here
PUBLIC ARTWORK COMMISSIONS
2017 –– Lead Artist, Unsettle Youth Street Art Mural, Digi Youth Arts, Qld. Museum. Instagram image: 1
2017 –– Interactive Mural National Museum Australia, Artists Gallery for first Australians, click here
2014 –– The Pillars Project, Artists, G 20 Cultural, Mural South Brisbane, click here. Press: 1
COMMUNITY CULTURAL DEVELOPMENT
2016/2017–– Artist Jarjums Life Museum, Minjerribah, Hymba Jumba, Cherbourg, Gold Coast, click here
2015 –– Director of Yana Balang – Strong Walk, Theatre in Community – Mirikai – Gold Coast, Qld. Work: Yana Balang
2014 –– The Walking Neighbourhood BAGOT, Northern Territory, click here
PUBLICATIONS
2017 –– Blank Magazine, click here 
2016 –– Colour Theory Featured Artists, NITV, SBS, Australia, click here. Trailer: Episode 2
2016 –– Shifting Sands exhibition, catalogue, Michael Aird and Jo Driessens
2015 –– My Story, Catalogue, Michael Aird and Jo Driessens, p 8-9, click here 
2015 –– More Gold Coast, Arts and Cultural article Kate Veling
COLLECTIONS
National Museum, Canberra, Australian